FREQUENTLY ASKED QUESTIONS
WHAT TO BRING: 
Lawn Chair

Wagons, Wheelchairs, and Strollers are Welcome

Blankets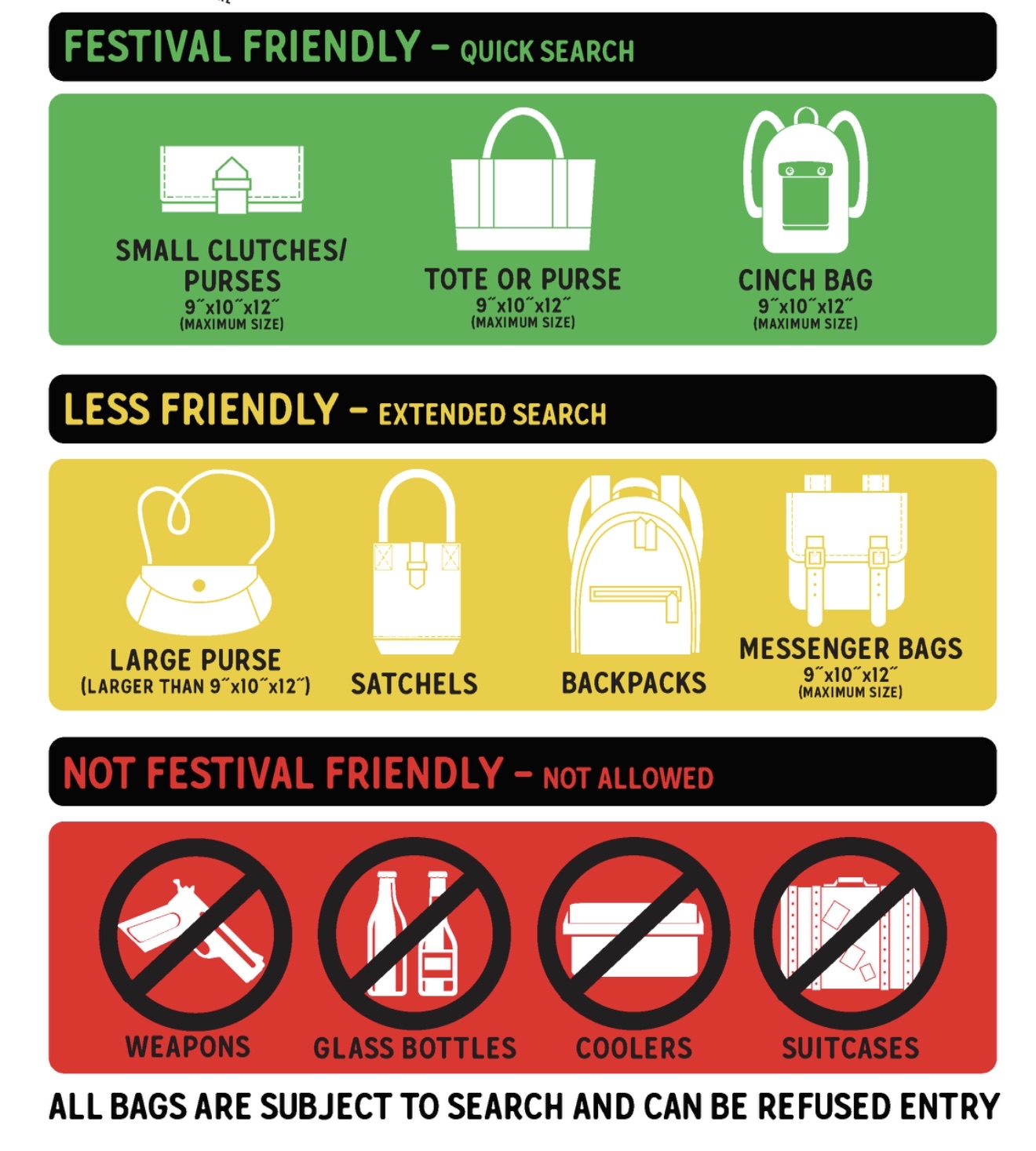 Can I Leave My Lawn Chair Overnight?
The only lawn chairs allowed to stay overnight are those who purchased reserved lawn chair seating or Cabana seating. All others need to be picked up nightly. Any chairs left will be picked up by security.
Off-site parking for the event is available first-come first serve and is $5/day or $20/full festival.

Premier On-site parking is available for purchase in advance for $59, or at the gate for $65 for full festival.
Is There Special Seating? 
Your ticket/wristband is for your general admittance, only.
We offer the following seating upgrades:
Raised Center Stage Seating is on a raised platform adjacent to our sound booth and videographers.
Ground Center Stage Seating is on the lower platform adjacent to the Raised Center Stage.
Pepsi Fan Zone is the standing room only area in front of both sides of the stage.
Reserved Lawn Chair Seating is a located near the front of the stage, and the only place you're allowed to leave your lawn chair overnight.
How Can I Get My Wristbands and Other Passes Mailed To Me?
You can avoid the wristband line by signing up for our BTF STAR Program
$20/email address will afford us the ability to mail your wristbands to you!
All passes, including but not limited to admission, parking, seating upgrades, camping, etc. must be purchased prior to June 1, in order for us to mail them out.
Parking passes and Festival Admission passes purchased after May 31, will require that you print your email confirmation and exchange for a wristband, or have the Event Brite app on your phone with the code to scan, and bring it to the Ticketing area under the main Grand Stand.
Upgrade Seating purchases made after May 31 require that you bring your email confirmation, or Event Brite app code, to the BTF19 Welcome Store located inside the festival.
Please do not bring any pets into the festival.  We do allow for service dogs who are clearly marked with their work vest and on 4′ leash at all times.
Smoking is prohibited on the festival grounds at all times.  It is a city law that smoking can only occur across the streets.  Also no, cigars, pipes, or vapors allowed.